Children's Events
Entertainment for kids parties and events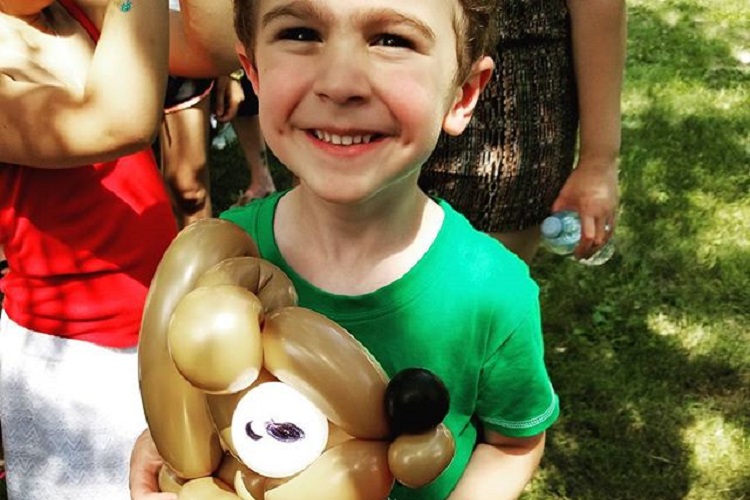 This error message is only visible to WordPress admins
Error: There is no connected account for the user jinxxmagic.
Balloon twisting at events
I love making balloons, I have a large repertoire of balloons to choose from to delight any child young or old. I have met a child who has asked for something like an under toe I do try not to disappoint. I believe given the time I can make anything. I once spent hours making a train, that is what you would call a sculpture. I traveled all over taking classes learning a new technique, nowadays YouTube and Google make it very easy to learn new things. Depending on how fancy the balloons are and how many children/guests are there is how much time you, would need. For example to entertain 15 children with nice balloons I would need at least an hour of time. Now if you wanted the children to have simple puppies and swords I could make about 30 balloons in an hour. Although my swords could be very fancy or simple. I do try to keep up with all of superheroes and princesses, I do enjoy making jet packs and bows n arrows and of course monkeys, tigers and bears oh my. Don't forget the flowers, balloon flowers that is.
I am capable of teaching balloon 101 or making a fun time of twisting balloon creations together. Whatever your needs I am sure to meet all of your balloon needs.
Face painting for kids and adults
There is something magical about watching a child transform from kid to character when you paint their face. Any party can be transformed into a room full of creatures, animals, and super heros.
A princess, tiger, or wherever a kid's imagination can take them, I can make it happen.I do full face painted, half face or just a little something for the less daring child.
And if you are wondering, yes I paint adults faces too. After-all,  there is a little party animal in all of us from kids 1 to 100.
In addition to face painting at parties, I carry glitter tattoos as well. They are water-proof and last 3 to 5 days. Great for pool parties or for children who are not sure about getting their faces painted.
Entertaining magic shows
I do a fun filled Comedy magic show geared for children ages 2 to 6, I can also gear the show for ages 4 to 9. I pick helpers from the audience to help make the magic work, of course there is also ButterScotch who is a big friendly, cute bunny.
He tries to do his magic trick, but usually just ends up being cute. Kids can pet him after the magic show. That's ButterScotch's favorite part of working. Although my shows are geared for children, adults are welcome and typically enjoy watching the children's reactions.
My shows are anywhere from 20 minutes to 45 minutes depending on the audience size and needs.
In addition to a magic show, I do pocket magic. This is where I do a magic trick with someone one-on-one. From making a sponge ball multiply in child's hand or making something disappear right in front of their eyes, these tricks leave them puzzled and smiling.
I also teach magic to eager learners. My magic 101 covers the basics. It can be a weekly teaching or just something I do with a child or adult for an hour.